Posted

Filed under

Application
|| English || 中文 || view

9816

|| Tweet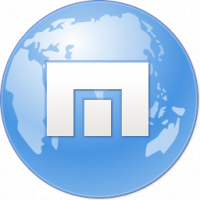 탭 브라우저로 유명한 Maxthon

이 9월 1일에 2.5.7 베타 버전을 내놓았고, 2일에는 베타 2 버전을 내놓았다..

Maxthon 2.5.7 베타 2 버전 다운로드 페이지로 가기



2.5.7 버전에는 없던 다음 세 가지 기능이 추가된 것이 특징이다.

- Mute

Browser

module
- URL Security module
- Passport

Login

Mechanism (개선)



Mute Browser

Mute Browser is one of the most requested features lately. It is obvious how muting only the browser can be useful from time to time. To use this feature, right click the status bar, select Add or Remove Buttons, and select Mute to show the button. To mute browser sound just click the Mute button. Click the button again to restore browser sound.





New Passport Login Mechanism

Using Maxthon Passport can enhance

privacy

and security. But from time to time you may need to

view

just a webpage or two. Login to the Maxthon Passport may not be the most convenient.

With numerous feedbacks from the users, Maxthon 2.5.7 is considering a different login mechanism. Maxthon starts with share account and a

floating

login

dialog

. Users can login as in previous

version

s or just view some web pages without login.

Here please be reminded that without login to your passport account, any changes in settings or addition of

favorites

are effective to the share account.

URL Security

As the gateway to the internet, browsers serve the first line of defense to malicious sites. To improve security of users, Maxthon gathers with支付宝, the biggest and most repu

tab

le online payment platform provider in China to provide additional URL security to users.

When a malicious site is visited, the web page will be blocked and replaced by a warning page. The address bar will also be highlighted to alert the user.

베타 2에서 달라진 점은 아래와 같다.

URL Security
*

Fixed

problem showing some safe url as malicious

Login
* Fixed problem that login button is only shown on new installation in 2.5.7 beta
* Fixed login dialog display problem with certain fonts under V

ista

/W

indow

s 7
* Improved login dialog keyboard operation
* Fixed problem that deleted accounts are shown login dialog
* Fixed a login dialog localization problem
* Fixed a logout button response problem